Q: How long will it take to get my order?
Shipping times very depending on your location and shipping method. Please check our shipping policies page for detailed delivery times.
Q: How long will the lights last?
ECLIPSE LED lights are rated for 60,000 hours of use, this equates to about 20+ years of use if you average about 8 hours a day.
Q: Are the lights able to reproduce a white color ?
Yes definitely. Just use the app, and select the white color wheel. There are many shades of white, the lights can replicate.
Q: How do you install the lights?
ECLIPSE LEDs install very easily, please check our installation and inspiration section for detailed instructions.
Q: Do I need to have an adapter to plug in from the wall to the lights?
No, ECLIPSE LEDs come with everything you need for them to work. Just follow the installation instructions and they will be up and running in no time.
Q: If I purchase multiple sets can they be controlled together?
Yes using our smart app you can create groups and control multiple ECLIPSE sets as a unit. They can also be controlled individually, if you would like different colors in different areas of your home.
Q: Does it come with a power adapter?
Yes, everything thing you need to get your lights working is included in the package.
Q: Can I use ECLIPSE LEDs on my boat?
Definitely, as long as your boat has a standard plug slot. You may be limited to the IR remote if there is no WiFi available.
Q: Do you have to use the app?
No. But we highly recommend using the app for the full experience. The backup IR remote has limited functions.
Q: How long do they take to install?
Installation is fairly simple, and doesn't require much time but it does depend on how many strips you're installing and the complexity of your install. The average time for a basic install on our 5M set is about 15 min start to finish.
Q: Where can I download the app?
You can download the app on the Apple App Store and the Google Play Store. Just search for "Magic Home" or scan this qr code: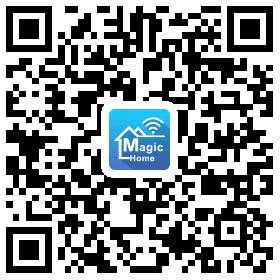 Q: Can you make 90° turns without cutting the strips?
Yes the strip is very flexible and can be bent, but you will need to bend the strip in a way where there is a bit of excess at the corner in order to create the bend.
Q: Can i join 2 cut strips together?
Yes. If you're a little handy, you can easily solder the cut ends together, after exposing the copper terminals. Theres also waterproof LED connectors that require no tools that can join strips together with ease.
Q: How do i reset the strips?
If for any reason you would like to reset your ECLIPSE LED strips, you can easily do so by plugging in and unplugging the power supply 5 times in quick succession. This will revert everything back to its factory state.
Q: How do I sync ECLIPSE LEDs to the app?
After opening the app, and tapping the + icon, select the add device button, and just follow the onscreen instructions.
Q: Whats the range that I can control ECLIPSE LEDs from?
ECLIPSE LEDs can be controlled from anywhere in the world once you have them setup through the smart app.
Q: Will the surface I attach the lights to be damaged?
It depends on the surface, most surfaces will not be damaged but you may need a bit of acetone to remove any left over residue from the adhesive. For painted walls and ceilings there may be some paint touchups due to the paint peeling with the adhesive.
Q: Will the lights stick to all surfaces?
ECLIPSE LEDs will adhere to most surface just be sure the surface is clean, dry and smooth. The strips will not adhere well to surfaces like popcorn ceilings. You can always attach them with a different adhesive that suits the surface you are trying to install too, if it happens to be textured.
Q: What happens if my LED strip stops working?
At ECLIPSE we stand behind our product, so if you have any issues please reach out to us at support@eclipse-led.com and we will provide you with information on getting a replacement if its under the 1 year warranty period. If you purchased the extended warranty you have 3 years from the date of receiving your lights.
Q: Can I return my order?
Yes, if for any reason you are not satisfied with your order, we offer a 30 day money back guarantee from the date you received your order. Just reach out to us at returns@eclipse-led.com and we will be happy to assist you.
Q: I ordered ECLIPSE LEDs a few months ago, and would like to order more, will my current set and new set link together?
Yes all ECLIPSE LEDs will work together no matter when you purchased them. Just use the app at any time to add additional light strips.